Characters
---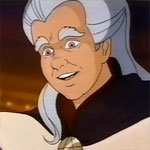 Names in other languages:
Dutch: Kristallijn
German: Meister des Lichts
ShiningGlory is a blind elderly sorcerer, who lives in Glory Manor not far from LovelyLocks Castle. He gives advice, provides magical aid, and most of all he is the confidant of the tragically cursed Prince StrongHeart.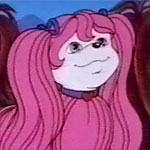 Names in other languages:
Dutch: Fluweelhaar Puppie
French: Frivoline
German: Schmusebutz
Italian: Cucciolodiseta
Silkypup is the fluffy, loyal companion of Lady LovelyLocks. Everyone in the castle adores her because she is good to everyone, but Silkypup loves her mistress most of all. Silkypup is the most helpful and loyal friend you can imagine.
Silkypup is a descendant from an ancient and distinguished pedigree, so she considers it her duty to protect the girls and the pixietails against any kind of danger. The pixietails are special friends and they love to comb and style Silkypup's long, glossy hair.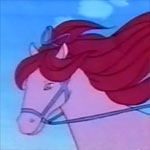 Names in other languages:
Dutch: Zilvermaantje
French: Soieline
German: Wallemähne
Italian: Chiomadiseta
Spanish: Crinieradiseta
Silkymane is the graceful, young horse who carries Lady LovelyLocks throughout her lovely land. She is a descendant from an ancient and distinguished pedigree and with her long manes and silky tail she looks enchanting when she gallops through the kingdom's fields.
Silkymane adores Lady LovelyLocks and the feeling is mutual. To Lady LovelyLocks, Silkymane is the dearest friend any princess could wish for.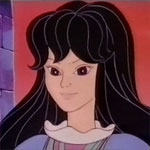 Names in other languages:
Dutch: Gravin Ravenzwart
French: Duchesse Noir-de-Jais
German: Gräfin Rabenstolz
Italian: Duchessa Neronda
Through sheer arrogance and supreme vanity, the evil Duchess RavenWaves has decided that she more than anyone else deserves to be called the most beautiful girl in the world. However, her striking good looks are on the surface only, and her very long, raven-black hair reflects light from the outside rather than shimmering with a shine of its own. Jealousy is never pretty, but Duchess RavenWaves doesn't understand that the real beauty of Lady LovelyLocks comes from within, and no magic potion, hair color, or frizzy perm will ever be able to match that.
This prideful girl has confused beauty with extravagance and royal majesty with tacky luxury. Her competition with Lady LovelyLocks has caused her to overdo and exaggerate everything. Tangleland, her home, is a very dry and unsightly place because she spends more time on herself than taking care of her land. The resulting static electricity fills her hair whenever she gets angry, causing little sparks to fly every time she touches something. This of course does nothing to improve her conceited personality.
Duchess RavenWaves has retained the loyalties of the small, bad-tempered Comb Gnomes. In return for their help in conquering the Kingdom of LovelyLocks, she has promised them beautiful hair. They do whatever she tells them, for they see her as their only chance to become lovelier than their rivals, the PixieTails. But as long as there is no inner beauty in any of their hearts, try as they might, they will never become truly beautiful.