You are hereLady LovelyLocks
Lady LovelyLocks
---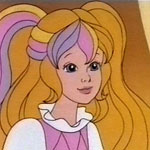 Names in other languages:
Dutch: Prinses Goudlokje
Finnish: Lady Sulokutri
French: Dame Boucleline
German: Lady Lockenlicht
Italian: Lady Chiomina
Spanish: Lady Tirabuzones
With a pretty pink smile, gentle blue eyes, and a shimmering rainbow of silky curls tumbling down her slender back, Lady LovelyLocks is truly the most beautiful princess in the world. She is the ruler and protector of the Kingdom of LovelyLocks, where everyone and everything has long, lustrous hair.
But there is more to her than meets the eye, for she is beautiful from the inside out, and has the power to make the beauty in her heart shine brilliantly through in everything she does. It is this inner beauty that serves her when danger threatens the friends and the kingdom she loves so.
The prettily colored streaks in Lady LovelyLocks' hair were given to her as magical gifts to symbolize her royalty. The soft pink glow came from the Dawn, the Sun added the radiant gold, and Twilight bestowed the shimmering lavender. These precious streaks enable her to summon the friendly little forest creatures called the Pixietails and command them to do her bidding.
Pixietails possess the secrets of Hair Magic, which gives them the power to add enchanted curls, sparkles, and waves of color to anything they wish. In this way they help Lady LovelyLocks keep her kingdom looking as pretty as can be.
Trivia
Lady LovelyLocks' hobby is embroidery.
Others sometimes call her "Lady" for short.
Quotes
In the Looking Room: "Let LovelyLocks shine!"
"All that matters is doing the right thing."