08: The Magical Forest burns
---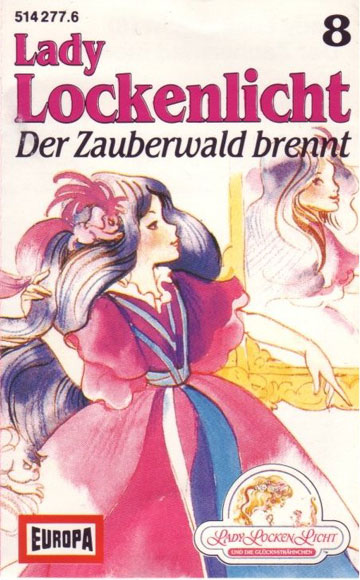 It starts with Matti and Tatzel walking trough the Forest into the direction of the swamp on a nasty rainy day. Their reception at home was not a very friendly one, after hearing what they've done. The Lady has even got ill after her child had been taken away from her.
So, they try to find their way to Rah's nest, while Duchess RavenWaves and the witch Lazulila are celebrating that all has gone so well with the kidnapping of Lady LovelyLocks' child. For that "little joke" as they refer to it, Lazulila promises her, to rebuild the castle of StrongHeart's father for her at midnight.
In the swamps, Matti and Tatzel have met Knabberjahn, who knows the whole story already, and promises them to show them the way to Rah's nest. They're almost there, as they see Rah approaching. They hide and are to afraid to come out of their hiding place - and when Knabberjahn wants them to go on, they've fallen asleep.
At midnight, Lazulia rebuilds the castle as promised. But something goes wrong- the whole building is terribly lopsided. In the morning she sends a letter to Castle LovelyLocks through the Comb Gnomes, saying that Lady LovelyLocks and Prince StrongHeart will only get their daughter back if they hand over the Land of Light to her.
ShiningGlory and Prince StrongHeart agree to not telling the Lady about this, because she is already very ill, but StrongHeart swears to get revenge upon the Duchess.
Daylight has returned to the Swamp as well, and Matti and Tatzel awake to find Knabberjahn gone - and the golden egg as well. They decide to go home and tell the others that they suppose that Rah has his egg back. It takes them all day to get back to the Magical Forest, because they get lost several times. Not sure of their reception, and if they will get anything to eat at all, they decide to roast some corn-cobs.
Then Rah's back overhead again, and they run back to the Forest - leaving the fire burning... As they realize they've forgot it, it is already too late: the undergrowth as already caught fire.
Meanwhile, Lady LovelyLocks has woken from a terrible dream. She saw the Magical Forest burning and lots of animals and Trolls swimming in the Misty River. She wants to know what has happened to them and goes to ShiningGlory.
Prince StrongHeart comes looking for her not much later, having found only her empty bed. The two can't avoid the Lady's questions any more and have to tell her about the Duchess blackmail.
After a while, Lady LovelyLocks remembers her dream, and ShiningGlory takes a look into his crystal ball, seeing, that the Magical Forest it truly burning. But the fire is not magical, so he can't put it out, except with rain clouds, but he doesn't really needs too: the beavers flooded the Forest with water from the swamp and the Nebelmoog has put mist over the Forest, so the fire is out very quickly.
Matti and Tatzel tell the other animals, that they are responsible for the fire, and that they're sorry, and want to make up for it. Most of the animals accept that, and aren't angry. Later Knabberjahn tells Matti and Tatzel that he has given the egg back to Rah, and that he has been very understanding.
After having heard this, the Lady asks Prince StrongHeart to go and bring their daughter back. He promises her that he will and the MC ends with him riding away to keep his promise very early the next day.