You are hereOther characters
Other characters
---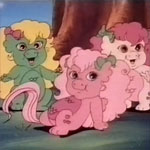 Dragons
Dragons are not native to LovelyLocks Land, but Lady LovelyLocks has befriended a couple of them, namely Longcurl Dragon and her 3 babies: Merrycurl (purple), Sweetcurl (pink), and Bouncycurl (green).
Baby dragons are born from the Dragon Tree. This tree grows from a seed planted by the mother dragon. Baby dragons are always born in three's. They actually pop out of giant flowers when those fall down from the tree.
Dragons talk common language with eachother, or say "Rak!" when they are under stress.
Villagers
The inhabitants of LovelyLocks Village are the loyal subjects of Lady LovelyLocks. They rely on the princess for good weather and even for food on the table! Whenever something happens, they call on Lady LovelyLocks for help.
Some villagers are mentioned by name:
Brian: a little boy with black hair, wearing an orange outfit
Megan: Brian's sister, she has blonde hair and wears a light blue dress and a white headscarf.
Peter: Brian and Megan's father, he has black hair and wears a blue and white
Kirk: Brian and Megan's uncle, he has reddish brown hair and wears dark blue
Trivia
Prince StrongHeart once spent some time in Lady LovelyLocks' company in the guise of a commoner named Mark.
Quotes
Peter, upon discovering a sleeping giant: "Go to the castle, Kirk. Tell Lady LovelyLocks. She'll know what to do."
Also see