Comb Gnomes
---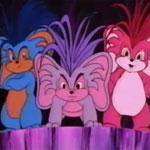 Names in other languages:
Dutch: Speldekrulletjes
German: Puschelzwergen
Italian: Pettignomi
The Comb Gnomes serve Duchess RavenWaves and HairBall. They are mischievous enough, but also very lazy and can be counted upon to botch a job. Even so, they are able to use magic to create whatever the Duchess or HairBall requires, and can even do magical attacks that look like lightning.
The pink one is called Snags. She always talks in rhymes, much to HairBall's annoyance.
The purple one is called Tanglet and doesn't talk, but only grumbles.
The blue one is called Dullah or Dullard?
Quotes
Snags to HairBall: "Our evil duties we'll never shirk. It's time for Comb Gnomes to go to work."
Snags to a group of Pixietails: "I'm the meanest Comb Gnome that's around. I'll bring all you Pixies down!"