HairBall
---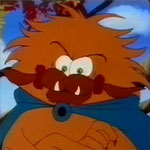 Names in other languages:
Finnish: Karvapallo
French: Postichon
German: Zottelzahn
Swedish: Härtuss
HairBall used to be an apprentice of ShiningGlory, but he is now in the employ of the Duchess RavenWaves, helping her execute her plans by making potions, using spells and bossing around the Comb Gnomes. He may seem sympathetic when he's miserable enough, but he is not to be trusted!
Trivia
HairBall's eyes come out of their sockets when he is shocked or doing magic.
HairBall can shrink himself using magic, usually when he tries to flee.
Quotes
"Where are my lazy comb gnomes?"
To Duchess RavenWaves when she asks why she can't have any luck: "You've got plenty of luck! Unfortunately, it's all bad luck!"
Waving a pair of scissors at Lady LovelyLocks: "Duchess RavenWaves only wants one clump of your pretty, pretty hair so she can have your power!"
Thanks to the commenters below for providing the names in other languages!