You are herePrince StrongHeart
Prince StrongHeart
---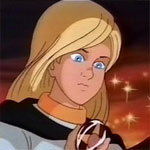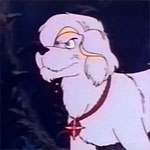 Names in other languages:
Dutch: Prins Dapperhart
French: Prince Decœur
German: Prinz Herzeloh
Italian: Principe Cuorforte
Prince StrongHeart has been cursed to spend most of his time as a dog. During the birth of the full moon he temporarily regains his human form. His wish is to break his curse and tell Lady LovelyLocks that he loves her.
Prince
Prince is the dog form of Prince StrongHeart. He lives with ShiningGlory, but often goes to visit his friends at LovelyLocks Castle and dig in the royal gardens.
In the marvel comic, Prince StrongHeart is cursed by an evil sorcerer who got in a fit of anger from hearing StrongHeart's flute. As a dog, StrongHeart couldn't return home, so he started wandering until he met ShiningGlory, who saw through his crystal ball that the dog was in fact human.
Quotes
[When a team-up with Pixiebeauty to rescue Lady LovelyLocks coincides with the birth of the full moon, Prince suddenly turns into StrongHeart.]
Pixiebeauty: "Who-ix are-ix you-ix? Where-ix is Prince?"
StrongHeart: "Hush, Pixiebeauty. I'm StrongHeart. I'm here to help you. But you must promise never to tell anyone about me, especially Lady LovelyLocks."
Pixiebeauty: "I promise-ix."
StrongHeart: "Good! Let's find her!"