ShiningGlory
---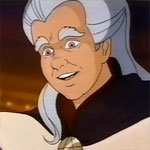 Names in other languages:
Dutch: Kristallijn
German: Meister des Lichts
ShiningGlory is a blind elderly sorcerer, who lives in Glory Manor not far from LovelyLocks Castle. He gives advice, provides magical aid, and most of all he is the confidant of the tragically cursed Prince StrongHeart.
Quotes:
After using magic to free himself from Snags' net: "How foolish of you to believe so simple a trick can defeat a wizard."
To Prince StrongHeart: "Remember, tonight is the birth of the full moon. For a fleeting moment Lady may see your true reflection."