Silkypup
---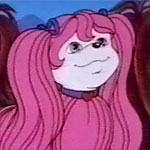 Names in other languages:
Dutch: Fluweelhaar Puppie
French: Frivoline
German: Schmusebutz
Italian: Cucciolodiseta
Silkypup is the fluffy, loyal companion of Lady LovelyLocks. Everyone in the castle adores her because she is good to everyone, but Silkypup loves her mistress most of all. Silkypup is the most helpful and loyal friend you can imagine.
Silkypup is a descendant from an ancient and distinguished pedigree, so she considers it her duty to protect the girls and the pixietails against any kind of danger. The pixietails are special friends and they love to comb and style Silkypup's long, glossy hair.
Trivia
Silkypup has a secret crush on ShiningGlory's dog Prince.