Silkymane
---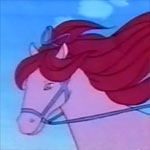 Names in other languages:
Dutch: Zilvermaantje
French: Soieline
German: Wallemähne
Italian: Chiomadiseta
Spanish: Crinieradiseta
Silkymane is the graceful, young horse who carries Lady LovelyLocks throughout her lovely land. She is a descendant from an ancient and distinguished pedigree and with her long manes and silky tail she looks enchanting when she gallops through the kingdom's fields.
Silkymane adores Lady LovelyLocks and the feeling is mutual. To Lady LovelyLocks, Silkymane is the dearest friend any princess could wish for.
Trivia
In the comic Silkymane is given to Lady LovelyLocks as a gift from a Prince who she once helped.
Other horses
Maiden FairHair and CurlyCrown also have horses, but they are not seen very often: