Pixietails
---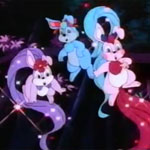 Names in other languages:
Dutch: Toverlokjes
Finnish: Keijuhännät
French: Minicouettes
German: Glückssträhnchen
Italian: Ciuffetti
Norwegian: Lykkesvansene
Swedish: Pixiesvansar
Pixietails are friendly little magical creatures that have the bodies of various animals, but with very long tails. They come in all colors of the rainbow and are about the same size regardless of which animal body they have.
Not only the bird pixietails, but all pixietails can fly. Sometimes the bunny pixietails will flap their ears as they hover in the air.
In the cartoon the pixietails talk with "ix" appended to the almost every word, and they take care of practically everything from putting up party decorations to defending the castle.
Lady LovelyLocks' pixietails have the bodies of bunnies. The purple one is called Pixiebeauty, the pink one is called Pixiesparkle, and the blue one is called Pixieshine.
Maiden FairHair's pixietails look like chipmunks and are known as the Wavy Pixietails. Maiden CurlyCrown's pixietails look like birds and are known as the Curly Pixietails.
The pixietails that live on the Enchanted Island are known as Sea Magic Pixietails, and they can have the bodies of fish, turtles, seahorses, ducks, ferrets/minks or snails. Their tails have shorter curls combined with longer waves (sometimes in a different color).
The Flower Ball series has pixietails that look like butterflies. Sparkle Pretty Lady LovelyLocks' butterfly pixietails also have glittering strands of hair.
Trivia:
Pixiebeauty is one of the few who knows Prince StrongHeart's secret.
Pixietails live in Pixietail Park.
Once each century the Pixietails must journey through the Parched Dessert to Pixietail Peak. This is known as the Hundred Year Pilgrimage, during which time they are unable to use their magical powers.
Quote:
After being summoned by Lady LovelyLocks: "Here-ix we are-ix!"
Also thanks to Angelkomeko, Else Fjäsne and the contributors in the comment section!