You are hereMaiden CurlyCrown
Maiden CurlyCrown
---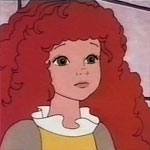 Names in other languages:
Dutch: Jonkvrouwe Krulkroontje
French: Rousseline
German: Prinzessin Goldlöckchen
Italian: Dama Ricciolina
Maiden CurlyCrown, loyal friend and companion of Lady LovelyLocks, is always ready for giggling good fun. Her lively imagination and love of life show through in everything she does from making up funny stories to combing out her hair in the most outrageous styles. Her pretty eyes are always alight with fun, and her bubbly energy and enthusiasm are an endless source of amusement to all who know her.
Although Maiden CurlyCrown is really very bright and intelligent, she sometimes gets so giddy that she has a hard time taking anything very seriously. If it looks like fun, she's the first to try something new, and this sometimes lead her to jump into things that anyone else might think twice about.
That's why Lady LovelyLocks gave this happy-go-lucky maiden the Curly Pixietails to keep an eye on her. Curly Pixietails have the special power to curl things up with their magical tails. They're also the fastest of all the Pixietails, which is a good thing to be if one wants to keep up with Maiden Curly Crown.
Trivia
Maiden CurlyCrown's hobby is collecting insects.
Quotes
"Everybody deserves a chance."